2021-2023 EXPLORER TIMBERLINE OFF-ROAD LIGHT KIT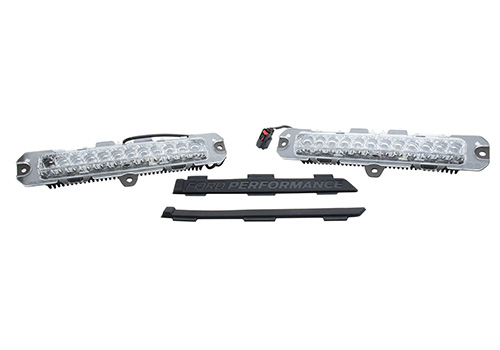 M-15200K-EGL
Sold in Units of
Each (1)

This off-road light kit was developed by Ford Motor Company exclusively for the 2021-2023 Explorer Timberline.
The dark Carbonized Gray grille has provisions already incorporated along with a wiring harness for dealer-installed Ford Performance auxiliary lights with an output of 160,000 candelas to illuminate nighttime trails. This equates to 2.5 times the brightness of the Explorer Timberline high-beam headlamps.
This kit enables easy installation of 2 - 10" LED Off-Road lights that can be integrated into the grille of a 2021-2022 Explorer Timberline The kit comes with unique harness and bracket and can be operated from the Auxiliary switch on the headlight switch.

Notes :
This kit only fits 2021-2023 Explorer Timberline.
Warning : This part has been designed and is intended for off-highway application only. Installation on a vehicle intended for use on public roads may violate U.S., Canadian, state or provincial laws and regulations including those relating to emission requirements and motor vehicle safety standards. In addition, installation of this part may adversely affect the warranty coverage on your vehicle.
Part Type
Electrical: Auxiliary Lights
Warranty Availability
Not Available
Package Dimensions
6.5" x 2.5" x 12.5"
Country of Origin
United States