MUSTANG BILLET ENGINE CAP SET W/ LASER ENGRAVED FORD PERFORMANCE LOGO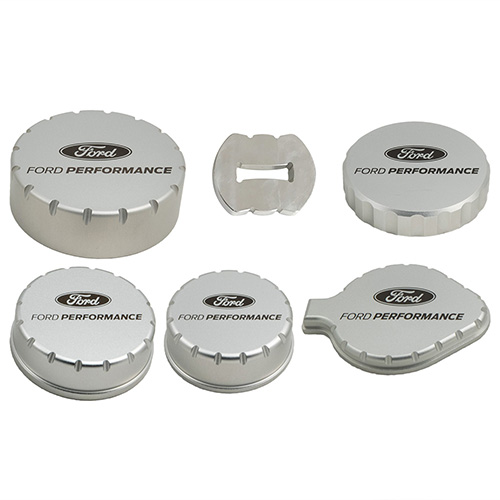 M-6766-M50A
Sold in Units of
Each (1)
Instruction Sheet
Not Available
Billet aluminum CNC machined cap covers with Ford Performance logo laser engraved in the tops. Each cap cover is designed to push into place over the existing engine cap and held in place with automotive-rated double sided adhesive tape. The cap covers are clear anodized to protect the finish & maintain long lasting beauty.
Fits:
2015-2024 Mustang GT 5.0L

2015-2023 Mustang EcoBoost® 2.3L
2015-2020 Mustang GT350 5.2L

2020-2021 Mustang GT500 5.2L
Set includes:
Engine oil cap with cap adapter for 2018-2020 Mustang 5.0L and Mustang EcoBoost® 2.3L
Brake reservoir cap
Radiator overflow tank cap
Windshield washer reservoir cap
Supercharger intercooler reservoir cap
NOTES: The supercharger intercooler reservoir cap also works with Ford Performance supercharger kit M-6066-M8627 and is not used on non-supercharged applications

Part Type
Engine: Dress-Up Kits
Warranty Availability
Not Available
Package Dimensions
6.25" x 3.5" x 8.25"
Package Weight
1.35 lb(s)
Country of Origin
Korea, South (Republic of)