2015-2023 MUSTANG HP PERFORMANCE PACK 19" X 10.5" & 19" X 11" WHEEL KIT WITH TPMS KIT - MATTE BLACK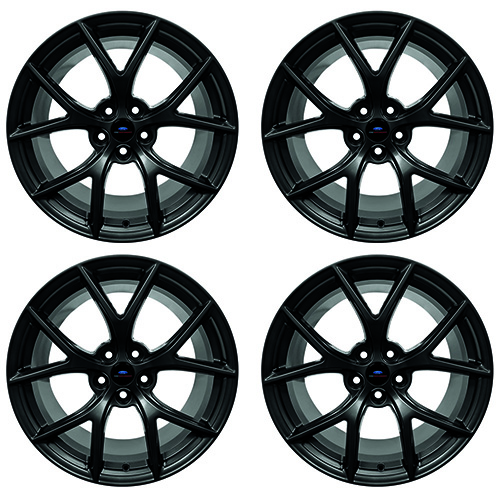 M-1007K-DC19XMB
Sold in Units of
Each (1)
Instruction Sheet
Not Available
ATTENTION:

This part is intended as a replacement part for use only in the application(s) identified in the product description. Installation of this part in a vehicle for which it is not intended may violate U.S. and Canadian laws and regulations related to motor vehicle emissions.

These Ford Performance Parts HP Performance Pack wheels are born from the bold and exciting 2018 Mustang Performance Pack Level 2 vehicles.

Fits 2015-2023 Mustang
Similar to the 2018 Mustang Performance Pack Level 2 wheel with a unique Ford Performance paint finish
Clears Performance Pack 6-piston brakes
Matte Black paint finish, clear-coated to OEM standards
Includes two 19" x 10.5" M-1007-DC19105MB front wheels and two 19" x 11" M-1007-DC1911MB rear wheels
Includes Ford Performance Center Caps M-1096-FP3
Includes M-1180-B TPMS sensor and activation tool kit
5-lug 114mm (4.5") bolt circle
NOTE: The M-1007-DC19105MB and M-1007-DC1911MB sizes are intended for use only on vehicles originally equipped with the Performance Pack Level 2 option. Use on other vehicles may result in tire-to-body/chassis clearance issues.
Part Type
Chassis: Wheels
Warranty Availability
Not Available
Package Dimensions
43" x 21" x 48"
Package Weight
147.25 lb(s)