351 ALUMINUM BLOCK 9.5-INCH DECK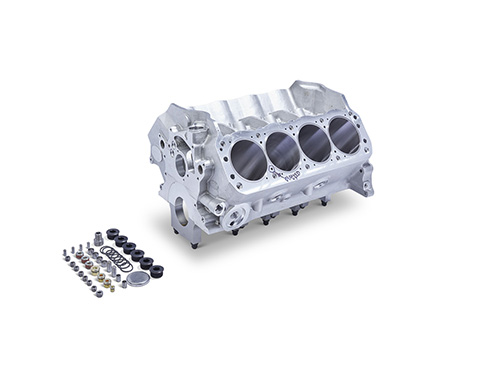 High strength aluminum engine block, 356-T6 grade aluminum
Splayed 4-bolt, steel billet main caps on 2,3 and 4
2-bolt main caps on 1 and 5
4.110"-4.115" bore as delivered, cast iron sleeves 4.125"
9.5-inch; deck height, accepts small block timing chain, timing chain cover and oil pump
2.75-inch crankshaft (351C) main journal diameter. 2.9415-2.9425" diameter finished main bearing bore
Lifter bores finished .8753"-.8768"
2.2032-inch - 2.2052-inch diameter cam bearing bores. Uses cam bearings, part number M-6261-J351
Maximum stroke 4.250-inch
Wet sump oiling system
Weight 118 lbs.
Part Type
Engine: Engine Blocks
Warranty Availability
Not Available
Package Dimensions
25" x 24" x 31"
Country of Origin
United States